When the temperatures grow warm, nature produces sweet fruits and water-filled vegetables designed to refresh and cool. When the seasons grow cold and we need sustenance and comfort, Mother Earth provides leafy greens and root vegetables rich with life-giving nutrients and minerals. Many chefs now specialize in masterfully combining Earth's seasonal riches with the flavors of local culture to create culinary artistry.
Fresh Produce, French Cuisine, and Chilean Flavor . . . Oh my!
The rich volcanic soil at AndBeyond Vira Vira has helped cultivate an impressive, ever-revolving organic farm that is used year-round in the resort's food preparation. All dishes are locally inspired with multi-course menus designed personally by French-trained Executive Chef Damián Fernández Dupouy. Chef Dupouy's culinary creations masterfully infuse the vibrant flavors of southern Chile through freshly harvested produce, resulting in sublime farm-to-table dining. Meals at the hotel are enhanced further by freshly baked bread and artisanal cheeses made in the resort's own Cheese Factory. The hotel's interactive kitchen – the Ruka – heightens the guest experience even further by providing hands-on organic cooking demonstrations, inviting visitors to learn the artistry of sustainable cooking while savoring perfectly paired wine and cheese.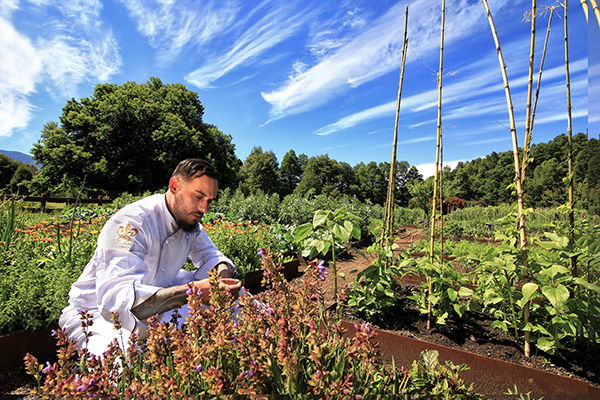 The Tropical Treasures of Island Cuisine
Meals at Miavana by Tide + Tide are a multi-sensory experience, with every bite inviting guests to relish the hidden treasures of island cuisine. Delectable dishes are planned daily using only the finest and freshest local ingredients, with every meal prepared in the most sophisticated yet sustainable manner, resulting in culinary creations that perfectly showcase the lavish flavors of the tropical seasons. Specialty dishes include Yellowfin Tuna, locally made Rova caviar, and Zebu-milk buffalo mozzarella. Meals can be enjoyed intimately with in-villa dining, on a luxurious castaway picnic, or barefoot at the beach. Every morsel is a culinary celebration of Madagascar's very best, heightened by the island's luscious landscape.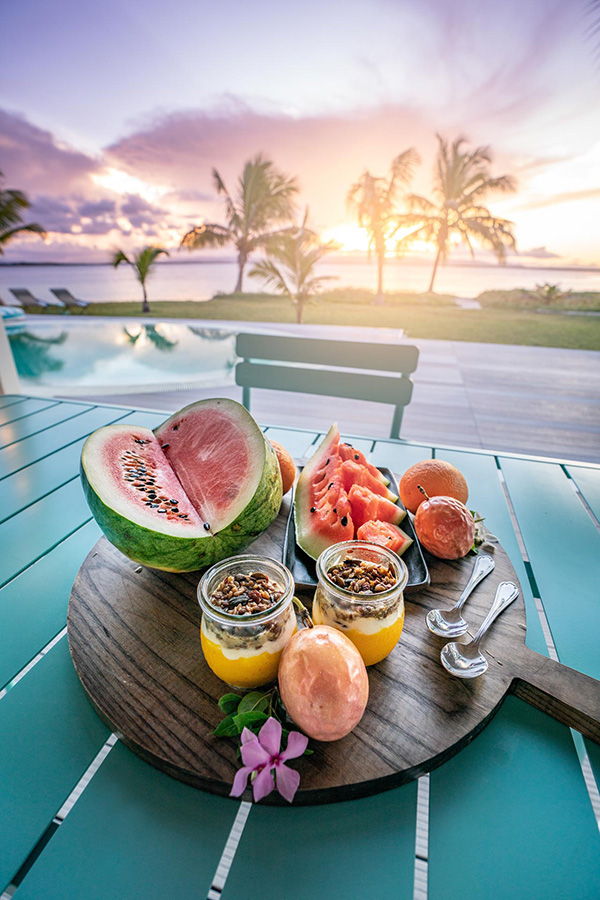 Multi-Sensory Dining in South Africa
Inspired by the natural wonders of the Cederberg mountain range, the chefs at Bushmans Kloof Wilderness Reserve and Wellness Retreat masterfully create new culinary adventures each day – with each menu determined by the changing seasons featuring produce primarily from its extensive onsite gardens. Guests literally absorb the beauty of South Africa with each enticing bite, whether they are enjoying an informal picnic, lounging along the banks of the Boontjie River, dining al fresco under the twinkling stars, or indulging in a sumptuous high tea. Those looking for a more intimate and romantic experience will be enticed by dining at the Kadoro – a secluded cottage hidden in quiet corner of the reserve that is free of electricity and transports guests back in time with its rustic charm. When dining at the Kadarao, guests are greeted at dusk with an inviting campfire and flickering lanterns before sipping on wine as their gourmet meal is prepared over the open flames consisting of delicious braaivleis (barbecues), wholesome soups, and hearty stews, rich with Earth's bounty.