As a portfolio of extraordinary hotels, resorts, and lodges, Beyond Green is dedicated to transforming the way we travel into more than just a social media memory and a checkmark on a bucket list. Beyond Green is devoted to authentic experiences that embrace and celebrate nature, community, and culture in all of their beauty and diversity
A thoughtful curation of destination leading properties that are dedicated to travel as a force for good, Beyond Green is always ready to welcome hotels that rally around proactive stewardship. This includes environmentally friendly operations that go beyond the basics, along with protecting natural and cultural heritage, complimented with genuine hospitality that benefits both local people and visitors alike. Beyond Green provides a new and exciting holistic view of travel that demonstrates how sustainable tourism can restore and regenerate ecosystems, protect endangered species, deliver tangible social and economic benefits to local communities, and help support cultural diversity, now and for future generations.
With a robust family of properties already on offer, including the impressive The Brando in French Polynesia, the stunning Bushmans Kloof Wilderness Reserve & Wellness Retreat in South Africa, and Post Ranch Inn in Big Sur, California, each addition to the portfolio is carefully considered according to our robust criteria and vetting standards.
Join us in welcoming the newest properties to Beyond Green and our family of fascinating and forward-thinking hotels, resorts, and lodges around the world.
Arenas del Mar
Manuel Antonio, Costa Rica
Set on the sun-soaked Pacific coast of Costa Rica within 11 acres of private rainforest nature preserve acting as a wildlife corridor and boasting two kilometers of shoreline, Arenas del Mar and its 37 suites welcome travelers into a world of beachfront and ocean exploration, nature walks and rainforest hikes, native flora and fauna at your doorstep, and premiere accommodations staffed by people from the local community.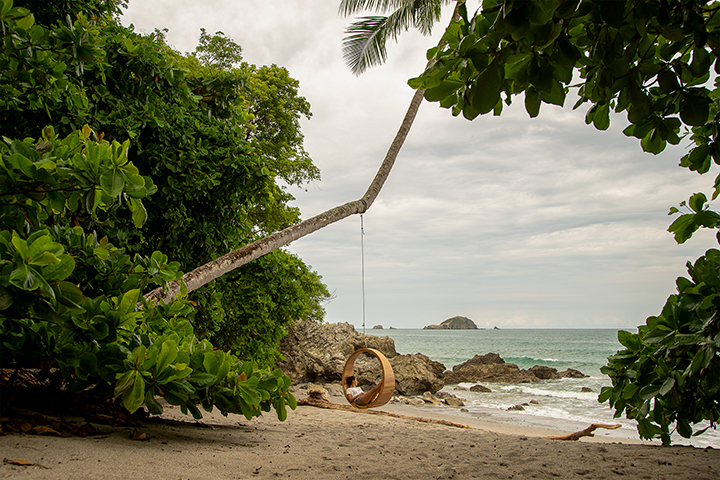 At Arenas del Mar guests can both relax or adventure at this beachfront paradise offering two beaches and two pools, oceanfront meals of resort-grown produce, four on-site Naturalist Guides prepared to help you spot wildlife and provide walking tours of the property, and a world-class spa and relaxation center. From surfing at sunset to birdwatching or yoga, activities abound at this Pacific coast playground.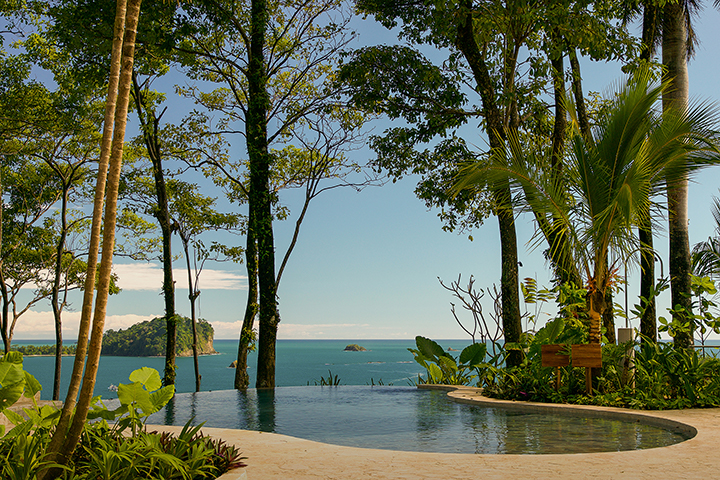 When it comes to travel as a force for good, Arenas del Mar is a true paradigm of the Beyond Green promise, with sustainability, the environment, community, and devoted hospitality at the forefront of everything it does. From the initial design of the buildings, which placed a special emphasis on the preservation of as many rainforest trees as possible – and which you can see in the how the architecture physically incorporated some trees into the buildings' eaves – to everyday sustainability in action such as not having single-use plastic, solar water heaters, and a hydroponic garden, and the support of a local school, Arenas del Mar proudly makes a positive impact in a myriad of ways.
Miavana by Time + Tide
Nosy Ankao Island, Madagascar
Did you know that more than 70 percent of all plants and animals in Madagascar are found no place else on the planet? Scientists refer to this as a "biodiversity hotspot" and, hidden among the tall palms and white sands of Nosy Anko island just off Madagascar's northeastern coast, Miavana by Time + Tide introduces travelers to a wild landscape populated by endemic lemurs and unique chameleons. Ringed by flourishing coral reefs, this tropical island escape is home to 14 luxurious beachfront villas with a level of luxury matched only by the resort's commitment to sustaining and protecting the surrounding land and sea ecosystems, as well as partnering together with the local communities that rely on these natural resources.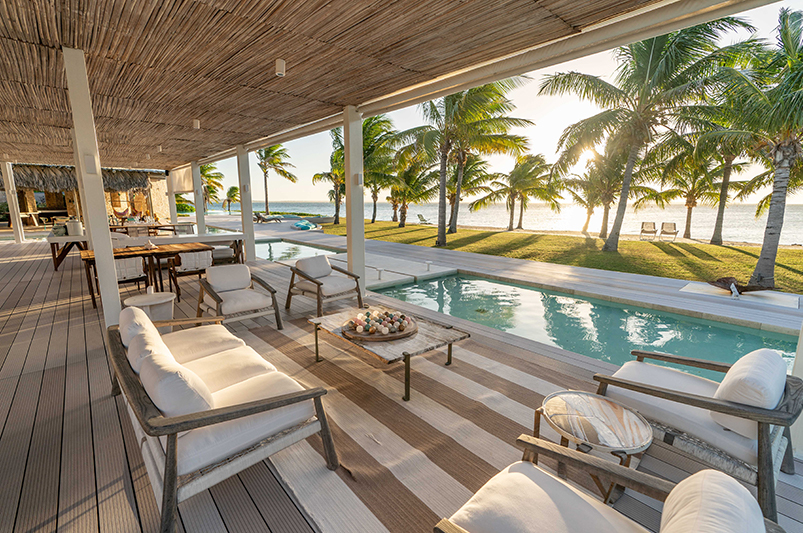 A stay at this Indian Ocean eco-resort immerses guests in an atmosphere of casual castaway luxury. The villas are built from local hand cut stone and woodwork, and feature hand-dyed textiles, soaking tubs with sea views, and private decks and pools. Upon arrival, guests meet with the experiences team to plan a custom schedule of wildlife tours, snorkeling excursions, whale watching, forest trekking, among other options based on personal preference.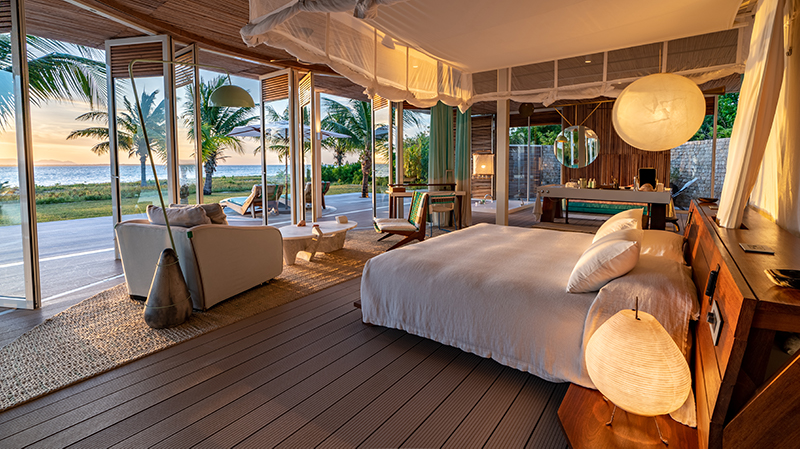 In keeping with the company ethos of giving back to people and the planet, the Time + Tide Foundation works with the local community to support education opportunities for girls and women, while also providing additional initiatives for economic empowerment. Environmental preservation is also a key component of the foundation's efforts, including hands-on wildlife conservation at Miavana such as monitoring of nesting sea turtles, marine and terrestrial biodiversity surveys, and active support for the Crowned Lemur Conservation program.
Time + Tide Chinzombo
Chinzombo, Eastern Province, Zambia
Located on a sweeping bend of the Luangwa River bordering Zambia's famed South Luangwa National Park, Time + Tide Chinzombo and its six exclusive villas deliver an unparalleled African safari experience that includes guided bush walks, day and night game drives, and boat excursions on the river to take in spectacular wildlife sightings, including leopards, lions and African wild dogs. A steadfast dedication to supporting conservation helps to protect those very animals and their natural habitat now and for the future.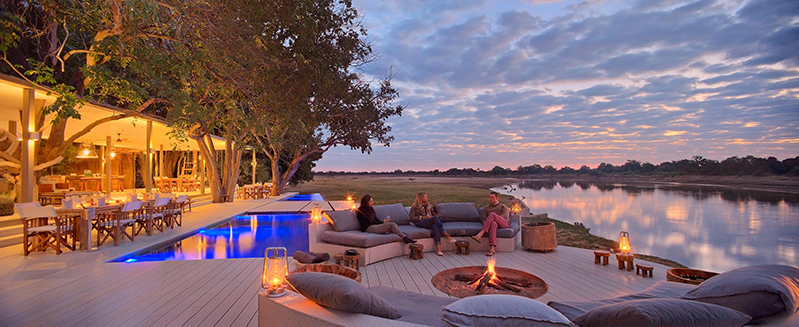 The camp's luxury villas sit beneath the shade of ancient msikzi trees and feature natural and sustainable materials such as canvas, wood, and reed walls, perfectly mixing the indoor living area with expansive outdoor shaded verandahs and private pools surrounded by nature. Meals at the camp offer an authentic taste of local cuisine with an eye toward international flavors that also reflect the history of Africa.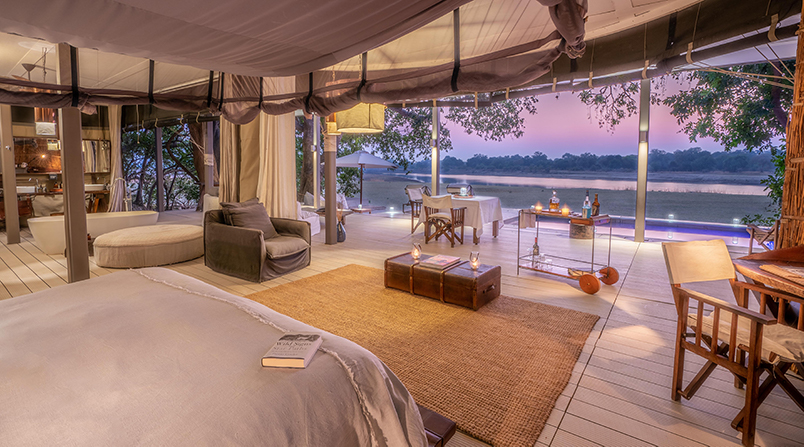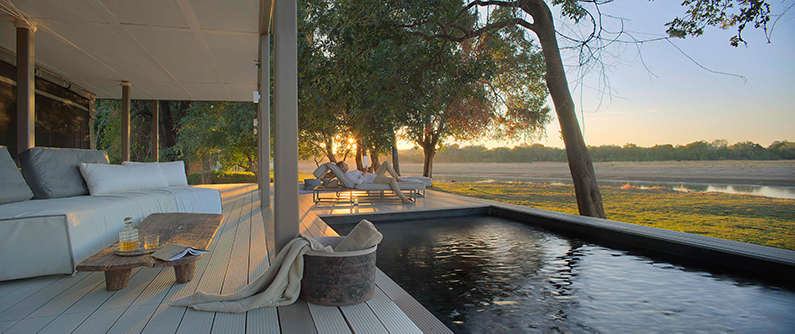 The camp's conservation programs are as thorough as its excellent guest hospitality, including robust initiatives to support anti-poaching, environmental education, and wildlife research. In addition, the Time + Tide Foundation also works to actively improve the livelihoods of local community members with a specific focus on health, female empowerment, education, and more.