Botswana's new Xigera Safari Lodge describes itself as "a love letter to the magic of the African bush," and trust us, it's a letter you'll want to read. Set in the heart of Moremi Game Reserve – a place renowned for its abundant wildlife, ranging from mottled frogs to solitary tree-climbing leopards and African bush elephants – the 12-suite lodge offers a super-intimate look at the wonders of the Okavango Delta, Xigera's love for which can clearly be seen in its sustainability efforts. This includes relying on renewable energy and partnering with the Botswana Department of Wildlife and National Parks to preserve the delta's natural heritage.
The lodge's affection extends to preserving human heritage, as well, particularly in its unprecedented support for African art and artists. The Xigera Design Collection – the world's largest-known, privately owned contemporary African art gallery – features everything from furniture and textiles to paintings and ceramics created by scores of the continent's artists. Bonus: As the lodge was built amid the pandemic, "the collection provided a lifeline of support for the more than 80 producers who were involved in lovingly handcrafting every aspect of the gallery, at one of the most fragile economic times the world has experienced," says Xigera's general manager Mike Myers.
Conceived, in part, by lodge owner Toni Tollman in collaboration with South African gallery Southern Guild – "the collection is spread throughout the lodge, so the whole of Xigera is like a contemporary African art gallery," adds Nicole Siya (pictured below), who leads guests on private art walks while lending insight into the collection and its creators. Beyond Green recently connected with Siya for a curated, virtual tour to a few of her favorite stops, including these five must-sees.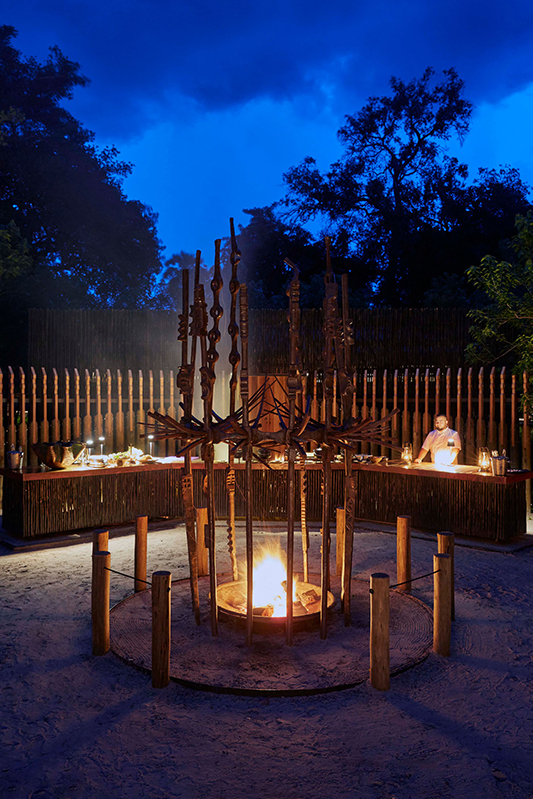 Artwork & Artist: Structure of Self by Conrad Hicks
Location: Center of Xigera's boma

Siya's Notes: This sculpture by South Africa's most accomplished blacksmith plays a central role in the Xigera Design Collection – it was the first piece from Southern Guild that Toni Tollman bought for the lodge, so it birthed the idea of an African art and design collection. It's also the focal point of the boma, where its placement around the firepit echoes the fiery forge where it originated. There is something very primal about Hicks' work that speaks to the purpose of a boma as well – eating outdoors under the night sky, sharing stories of the wilderness you've encountered during the day, your senses heightened.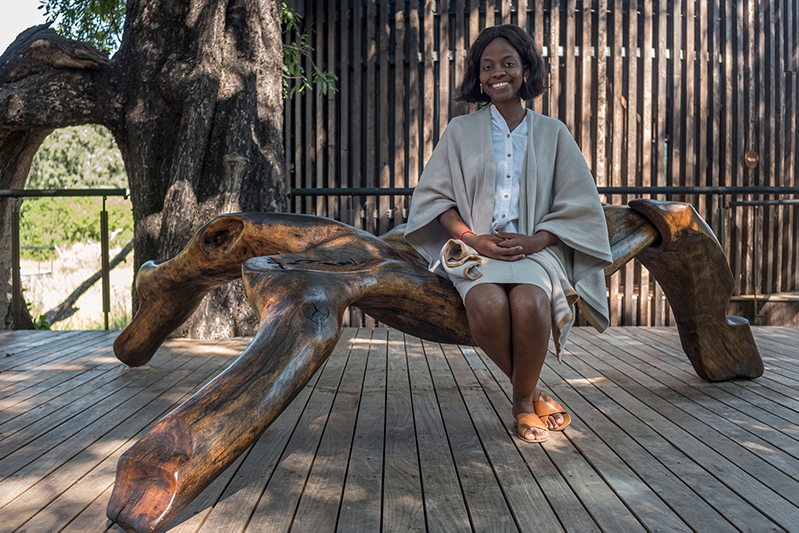 Artwork & Artist: The Knuckle by Adam Birch
Location: Spa

Siya's Notes: This bench is made from two pieces of wood that interlock like bones (hence its name) and hold together without the use of nails or screws – a first for Birch. He carved this on-site from a fallen sausage tree, whose wood he said was very satisfying to work with because it has both suppleness and impressive structural strength. The area outside our spa was a natural choice to place this piece, as it's one of the largest open spaces on the deck and a good pause point for guests waiting to enter the spa.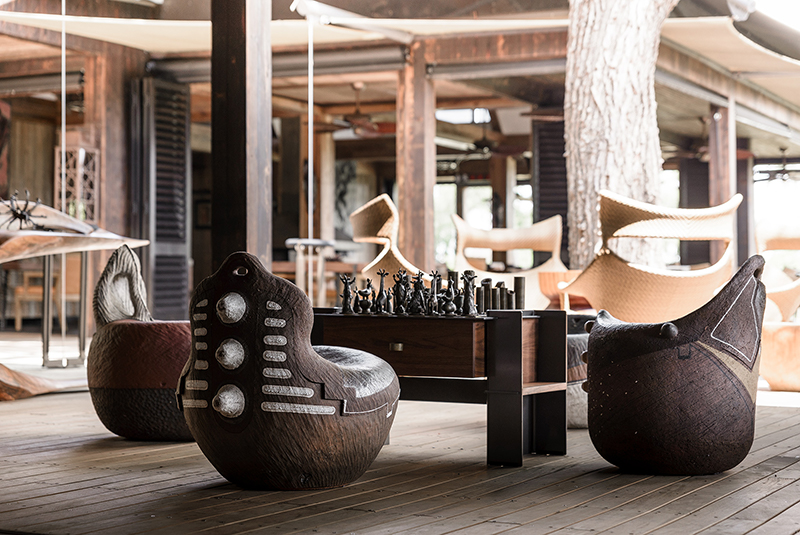 Artwork & Artist: Inkunz'emnyama, Ugcado, Umdlungu, and uMbandavu by Andile Dyalvane
Location: Main lodge's deck

Siya's Notes: This collection pivots around the central role that maize cultivation plays in rural African life. I would point out that Andile intends for guests to feel deeply connected to the soil and to the African continent when they sit upon these works. Their titles – Inkunz'emnyama (black bull), Ugcado (roasted corn kernels eaten as a snack), Umdlungu (spoilt corn) and uMbandavu (a dish cooked with sorghum and sugar beans) – evoke the cyclical practices of land cultivation, harvesting, and seasonal food that inform daily life in South Africa's rural Eastern Cape, where Andile was raised.
Artwork & Artist: Tall Blue Vase by Zizipho Poswa
Location: Library

Siya's Notes: This vessel is symbolic of the beauty and strength of African women carrying items on their heads. Zizipho Poswa is inspired by her female relatives and ancestors, their bold characters, elegance, strength, and humility. She founded Imiso (meaning "tomorrow") Ceramics in Cape Town with Andile Dyalvane in 2005, and their handmade studio ceramics have earned an international following. Her work is in the collections of the Los Angeles County Museum of Art and the Philadelphia Museum of Art.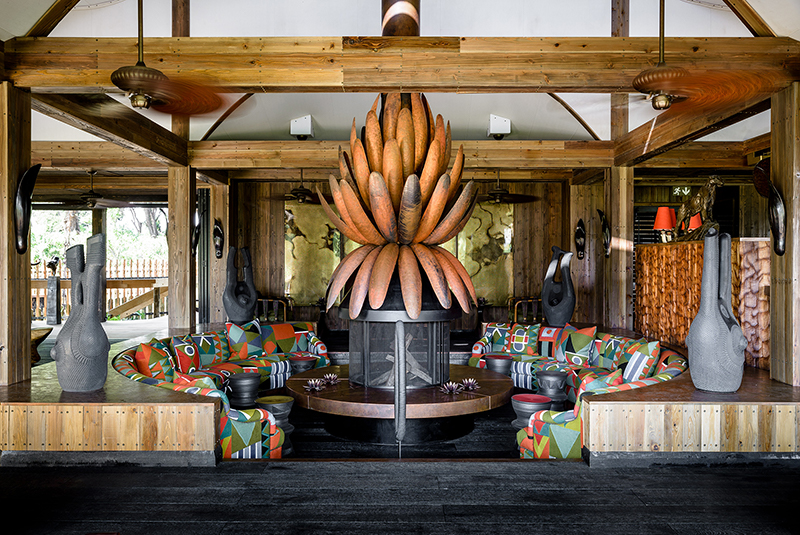 Artwork & Artist: Ceramics from the IsiNqolamthi (woodpecker) collectio by Madoda Fani
Location: Main lodge

Siya's Notes: Fani's curvaceous clay forms are a contemporary evolution of traditional Nguni ceramics indigenous to Southern Africa. He works on a large scale, building organic-shaped vessels whose surfaces he carves with intricate, repetitive patterns inspired by insect exoskeletons, feathers, scales, and wood grain. Created for Xigera, the four works in this series [shown on the counters' corners] are hand-coiled, their bases bifurcating into tree-like limbs that taper off into shapes reminiscent of bird crests and beaks. At the center of each base is a small round aperture the artist has modelled on the distinctive holes woodpeckers drill into trees.