Author and child advocacy expert Richard Louv said it best: "If we are going to save environmentalism and the environment, we must also save an endangered indicator species: the child in nature." But slipping ecology lessons into sustainable summer vacations doesn't need to be like sneaking vegetables into your kids' mac-and-cheese. Fortunately, building budding environmentalists – and getting children off their iPads – comes easy at the following properties, where spending time outdoors and learning about conservation go hand and hand. Bonus for families living in or near the U.S.: Their close-to-home locations means less time hearing "when will we get there?" and more "when can we go there again?" (you can thank us later).
California, U.S. | Cavallo Point – the Lodge at Golden Gate
Open the door at Cavallo Point (pictured above), set within San Francisco's Golden Gate National Recreation Area, and you're just baby steps from outdoor adventures like mountain biking, beachcombing, and kayaking. A bit farther afoot, families can commune with ancient redwoods in Muir Woods or harvest organic gardens at Slide Ranch. Camp Cavallo programs also keep kids engaged with eco-hikes and science projects. Good to know: Through an optional $3-per-night surcharge, guests can help support the Cavallo Point Fund to aid organizations like Environmental Travel Companions, which works to get disabled and disadvantaged youth outdoors.
Wyoming, U.S. | Bentwood Inn
Expanding kids' horizons comes naturally in 485-square-mile Grand Teton National Park, home to towering peaks and immense alpine lakes. What's more, Jackson Hole's Bentwood Inn connects guests with responsible tour providers for eco-safaris along with wildlife biologists to learn how area animals survive and thrive in various seasons. If your kids need any additional motivation to visit, the inn welcomes families with a basket of s'mores ingredients for nighttime fires around its backyard boma. Good to know: Bentwood's extensive eco-efforts include helping found 1% for the Tetons, an organization that helps fund local conservation projects.
New Mexico, U.S. | Vermejo, a Ted Turner Reserve
Count on your kids coming back tired after participating in Vermejo's Junior Tracking Program, whose activities include studying animal tracks, learning about bugs, riding horses, geocaching, and even watching movies under the stars. Families can also set out on guided eco-tours to learn more about Vermejo's sweeping preservation programs, including successful efforts to reintroduce American bison and Rio Grande cutthroat trout to its 550,000-acre reserve. Good to know: Families can contribute to Vermejo's conservation work by volunteering on riverbank restoration projects.
Manuel Antonio, Costa Rica | Arenas Del Mar
How does an 11-acre private rainforest reserve (look for monkeys and sloths!) with direct access to two beaches sound for a family summer vacation? Arenas Del Mar's in-house naturalist guides lead families on local whale-watching tours, night walks to spy the reserve's nocturnal wildlife, and an array of eco-adventures in nearby Manuel Antonio National Park. Cultural experiences include learning about indigenous plants in the mountain village of Quebrada Arroyo. Good to know: Arenas Del Mar's staff help care for a major nature trail inside the park and resort and guest donations help fund eco-projects at a local school.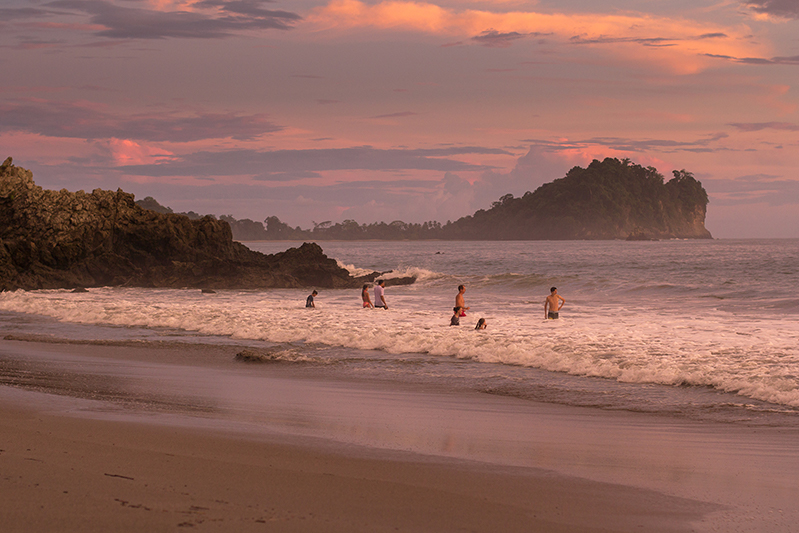 Islas Secas, Panama | Islas Secas
Located on a 14-island archipelago (75 percent of which is undeveloped) 20 miles from Panama's coast, Islas Secas offers an Edenic setting for families to reconnect – and be reminded of the growing imperative to protect our planet's fragile ecosystems. Guided terrestrial hikes in search of iguanas and tropical birds, reef-safe snorkeling trips (look for 750 species of fish), and eco-minded marine safaris such as whale-watching tours immerse guests in the region's immensity of plant and animal life. Good to know: The Islas Secas Foundation's support for area schools has helped to fund environmental education, including whale-watching tours for local students.