There is a wisdom to this pattern that we humans would do well to imitate. We must each become sustainable stewards of ourselves. This is why health and wellness services are featured prominently in many of our Beyond Green hotels, resorts and lodges. When you book with one of our exceptional members, you can indulge and recharge yourself knowing that nearly every wellness experience also helps sustain the local environment and culture.
Harnessing the Healing Power of Water
Nestled between a private lagoon and the South Pacific Ocean, Intercontinental Bora Bora Resort and Thalasso Spa's Deep Ocean Spa is described as the jewel of the resort. Treatments utilize the natural nutrients and healing power of the sea, blending modern-day wellness with the wisdom of ancient Polynesian healing rituals. This includes signature sea water treatments, each uniquely designed to leave patrons feeling relaxed, revitalized and refreshed. All of this takes place amid the exotic beauty of the tropical gardens, while the hidden splendor of the sea flows beneath you, viewed through glass-bottom massage rooms where you can drift off blissfully while viewing colorful corals and tropical fish swimming by.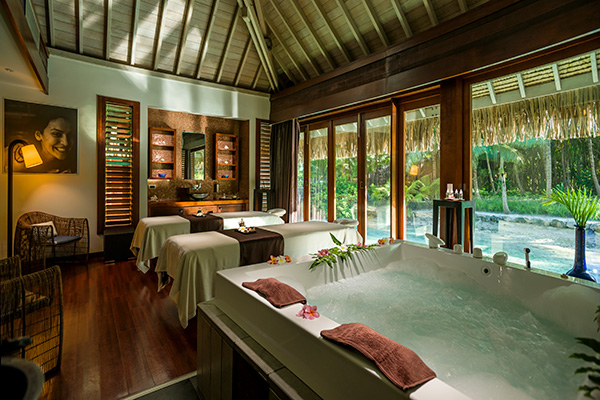 Discovering Wellness in the Wilderness
From its nature-inspired architectural design to the untamed beauty of the surrounding wilderness, the spa experience at Xigera Safari Lodge, located in the heart of Botswana's legendary Okavango Delta, is designed to restore, refresh, and rejuvenate through nature's innate healing powers. Lodge therapists work harmoniously with the natural world, offering customizable treatments that use only the purest of luxury skincare products. Xigera Safari Lodge also offers a carefully cultivated wellness program, featuring international innovators in the fields of mindfulness, wellness and holistic therapies that seamlessly incorporate the natural healing powers of the wilderness. Connect further with nature's daily rhythms through sunrise and sunset yoga sessions on a platform overlooking one of the world's most spectacular wildlife havens.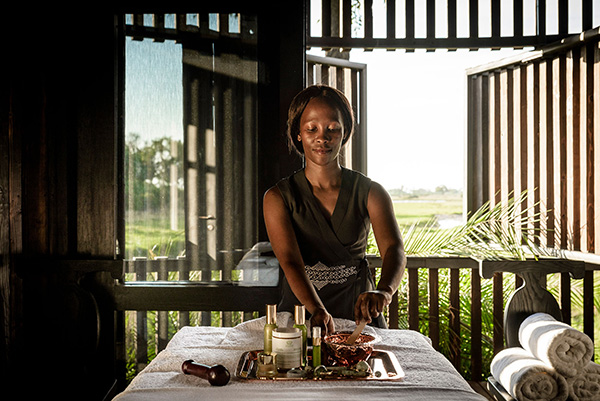 Bushmans Kloof Wilderness Reserve and Wellness Retreat
Located a two hour drive through the stunning countryside and wine estates surrounding Cape Town in South Africa, Bushmans Kloof's Spa is dedicated to restoring balance and wellbeing using time-tested methods in one of the world's floral kingdoms – regions of our planet known for their exceptional wildflowers and rare plants. Treatment options are inspired by ancient African traditions and utilize lavish, natural skin products derived from native African plant extracts. Spa rooms immerse guests in the aura of the surrounding Cederberg Mountains with natural lighting, scenic views, and aromatherapy. Couples can also enjoy an intimate spa experience on the Riverside Gazebo overlooking the seasonal Boontjies River. Stress effortlessly melts away in the cleansing Crystal Steam Room, and guests can complete their relaxation session at one of the resort's four heated pools, or the restorative Tranquility Lounge, which leads to a private garden. Simply put, you cannot help but feel rejuvenated by the spectacular landscape of this ancient, untamed wilderness.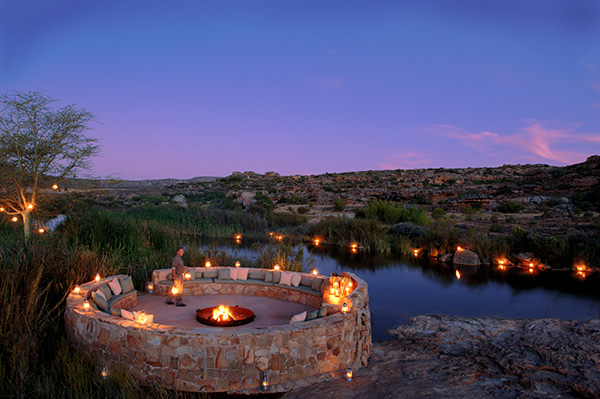 Cultivating Wholistic Healing in Big Sur
Whether it's a spectacular hiking tour in the mountains, a meditative yoga class or a restorative treatment from the resort's Sleep Spa menu, Mother Nature remains the driving force behind all of Post Ranch Inn's spa and wellness experiences. Healing begins the moment a guest arrives, greeted by this sanctuary's biophilic design. Natural beauty abounds, from exquisite architecture (including a clifftop perch overlooking California's Big Sur coast) to living green roofs covered with grass and wildflowers. The Post Ranch Spa continues this naturalistic theme with its certified organic or wild-crafted essential oils (used in all its products). This includes aromatherapy massage oils, flower essence mist and rich body butters. Knowing that self-care goes far beyond the physical, The Ranch also offers spiritual exploration sessions, intuitive healing art classes such as Reiki, a Japanese energy-balancing technique, and private spa activities which include yoga, meditation, and guided nature walks.