The region is alive with a sense of well-being and longevity: from the fresh, open air village squares, to the passionate pursuit of la dolce vita, to a healthy, active lifestyle. And then, there's the food.
For centuries, the people living near the Mediterranean basin have known that the secret to good health is enjoying a bountiful array of fresh, seasonal food, including fruits and vegetables grown organically in the area's fertile, often volcanic, soil; locally produced olive oil; and moderate amounts of local wine—a way of eating that is as beneficial to the planet as it is to its people.
The Artistry of Sustainable Dining in Greece
Art and nature come together on the plate in the ruggedly beautiful mountains of the Zagori region of Northwestern Greece. There, Aristi Mountain Resort and Villas elevates traditional Greek and regional dishes to unforgettable haute cuisine; using fresh, seasonal ingredients grown in their own organic gardens or purveyed from local Epirote villages.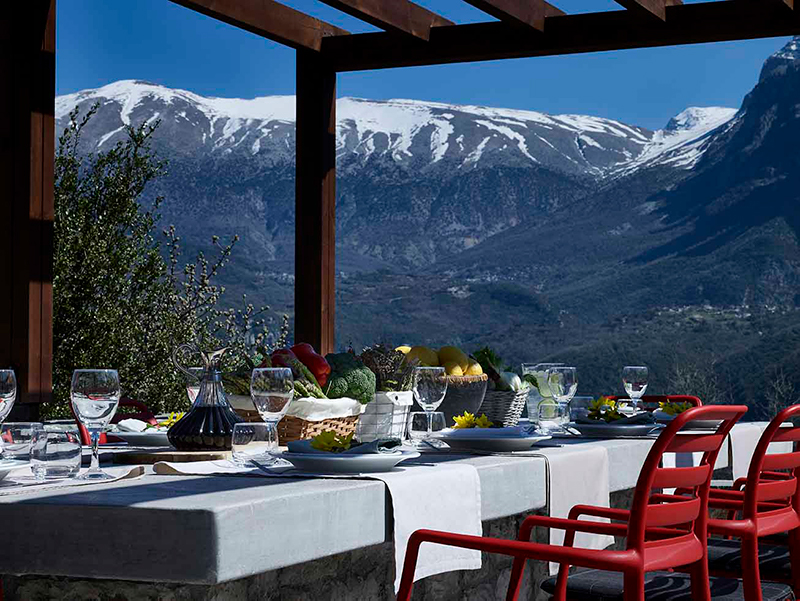 The resort's award-winning restaurant, Salvia, is noted for its contemporary, sustainable takes on traditional Greek cuisine. From the exquisite simple pleasure of handmade warm Zagori pita served with galotiri, a soft cheese made with goat or sheep's milk, to more elaborate preparations of tender lamb from local farms and fresh trout from mountain streams a stone's throw from the resort, each meal strikes a balance of creativity and healthfulness—all while supporting the local culture and economy and respecting the natural resources of this remote area.
Guests are invited to enjoy a cooking workshop, where they learn to prepare a three-course meal of regional specialties, as well as culinary experiences, such as visits to local wineries, restaurants and tavernas, and foraging adventures, such as hunting for wild mushrooms in the surrounding forests during the fall.
At Borgo Pignano, in the hills of Tuscany, nearly all of the food is grown or produced on the 750-acre estate, in harmony with sustainable agricultural traditions that have helped shape the land and the local community for centuries.
In addition to growing and pressing their own olives, Borgo Pignano grows a wide variety of heritage crops, including spelt, lentils, chickpeas and organic wheat to stone grind their own flour for breads, pasta, and pizza. The estate's free-range pigs and hens produce eggs and meat for the restaurants, while the bees in their apiary produce their famed mille fiori honey. Heirloom varieties of vegetables and fruits that are native to Tuscany abound in the gardens and orchards surrounding the property.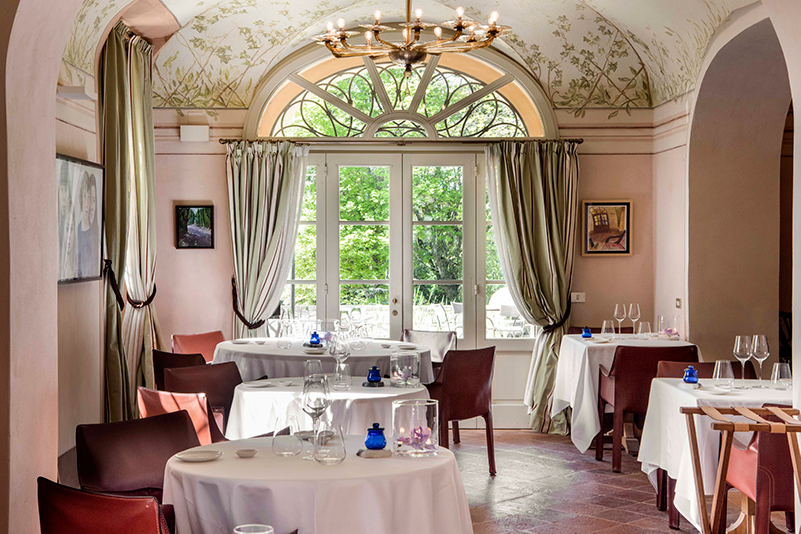 The restaurants - Villa Pignano, which is widely regarded as one of the finest dining experiences in Tuscany, and the more informal, but equally memorable, Al Fresco - serve Vermentino white wine and Ciliegiolo and Abrusco Nero di Toscana red wines made from grapes grown organically in Borgo Pignano's vineyards and produced according to age-old practices in their wineries, as well as a selection of other famous Tuscan organic wines. Guests can spend time getting to know these varietals even better through tastings in the historic cellar of Borgo Pignano's 18th century villa.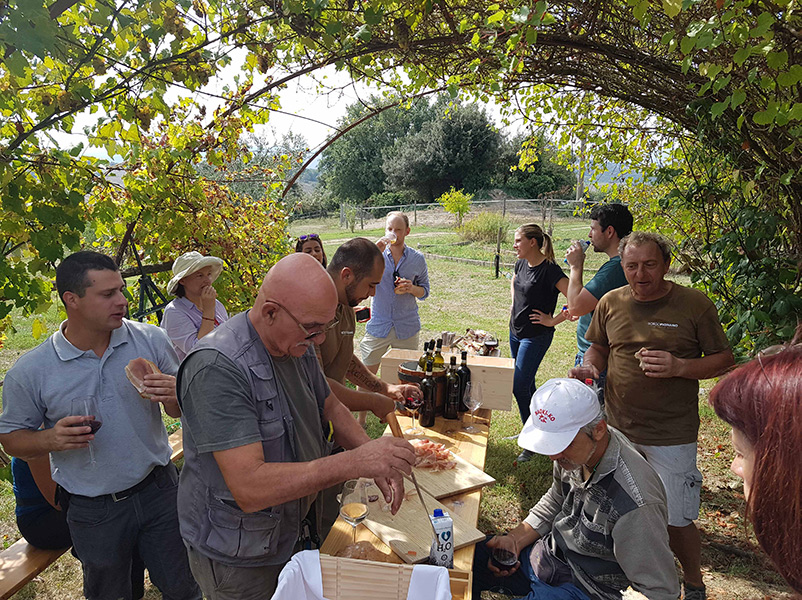 Through cooking classes offered onsite, using the estate's organically grown grains and produce, guests can also learn how to prepareTuscan cuisine at home, so they can savor Borgo's flavors and experiences long after they depart.