Each year, nearly two million African herbivores — including more than 1.5 million wildebeest, 400,000 zebra, 300,000 Grant's and Thomson's gazelle, and 12,000 eland—follow the seasonal rains in a clockwise direction across the Serengeti-Mara ecosystem, searching for fresh pastures on which to graze. The circular journey, over 500 miles (800 kilometers), is the planet's largest overland annual migration, one of the seven natural wonders of Africa—and considered by many wildlife enthusiasts to be the greatest show on earth.
When and Where to Go
As the wildebeests make their dramatic crossing of the northern Serengeti plains and the rushing Mara River in Kenya between July/August (depending on the shifting rainy season) and October, many consider this the best time and place to take in the spectacle. Because predators pay close attention to the crossing from the riverbanks, it's also prime time viewing for lions, leopards, and cheetahs in the Masai Mara.
Guests at andBeyond Bateleur Camp have a front-row seat to the action. In fact, Bateleur Camp is one of the premier places in Africa for viewing the Big Five (lions, leopards, elephants, cape buffalo, and rhinos) year-round, as well as more than 500 bird species, hippos, giraffes, and some of Africa's largest crocodiles, either during game drives, from hot air balloons, or just gazing out at the vast plains, with complimentary Swarovski Optik binoculars, from a tented suite.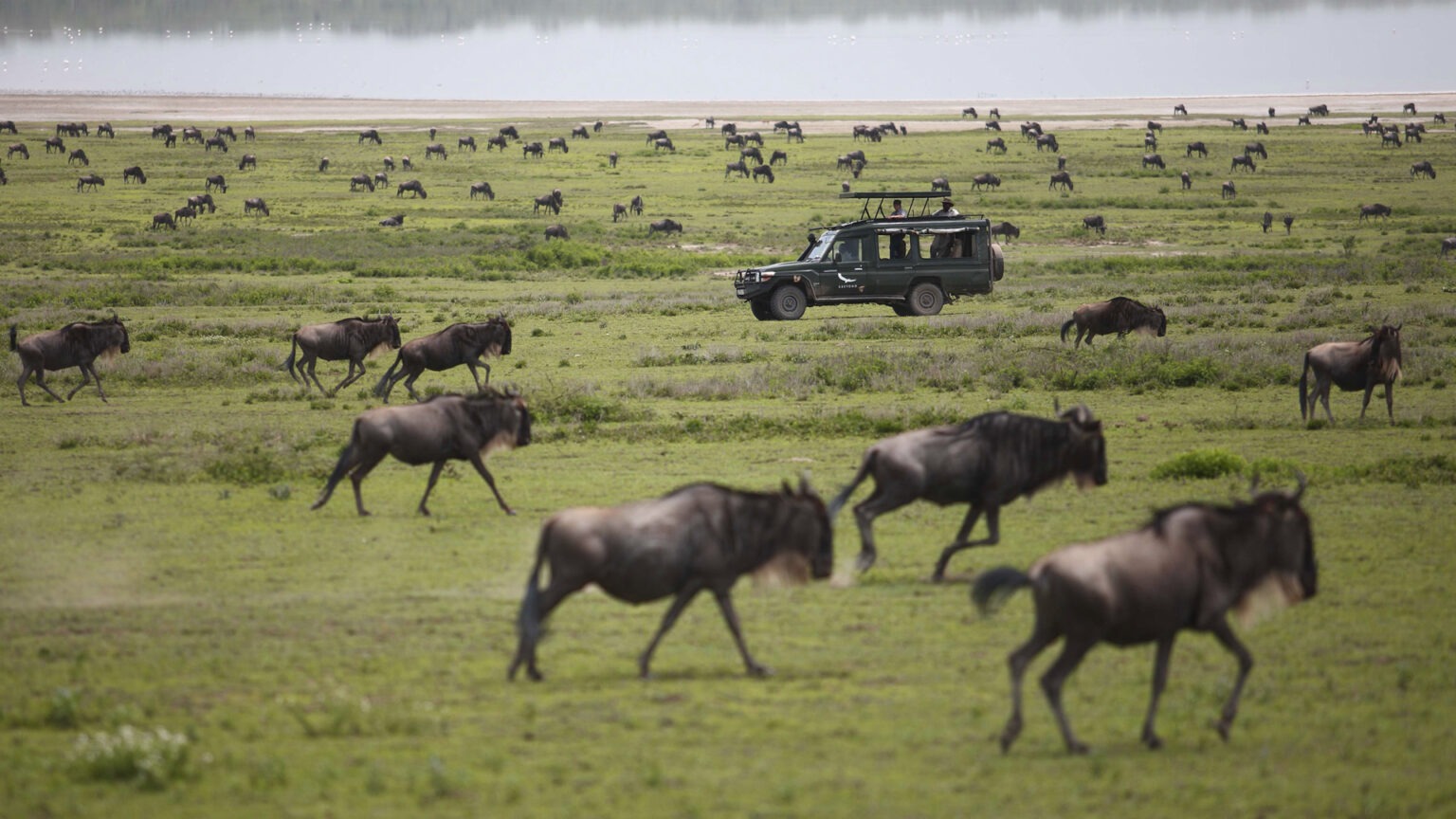 A Cinematic Experience
With its copper bathtubs, hardwood floors, antique furnishings, private butler and housekeeper for each tent, and impeccable attention to detail, the camp evokes the glamour of a bygone era—it is located close to where Out of Africa's famous final scene, with the lions, was filmed. At the same time, Bateleur Camp's amenities are firmly rooted in the 21st century. Guests can swim in the sparkling camp pool; take advantage of a well-equipped gym and array of wellness treatments; enjoy the coffee bar by day and gin bar by night; and, of course, connect to the outside world through camp-wide wifi.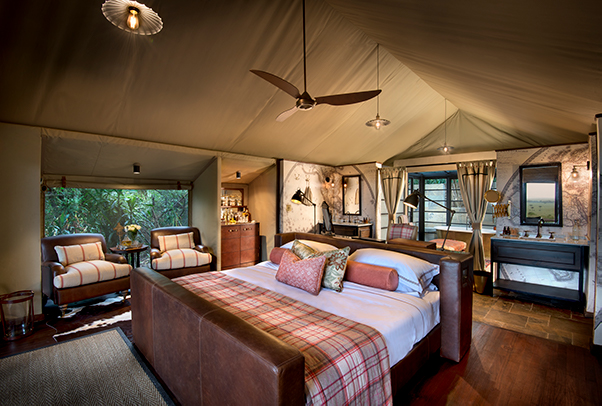 A Sustainable Experience
The resort's commitment to the care of the land, its wildlife, and its people is part of all that they do. For the past 20 years, they have partnered with local Maasai communities on conservation and anti-poaching projects—contributing to the apprehension of many poachers and the removal of many thousands of snares. They are also committed to preparing meals with organic vegetables from their own gardens, and sourcing honey from a local Maasai women's group.
In partnership with Africa Foundation, Bateleur Camp has provided employment, skills training, healthcare, and education initiatives to Maasai villagers, as well as much needed food distribution and other help during the COVID-19 pandemic, when local communities were not only facing a health crisis, but also an economic crisis due to the tourism shutdown.
A Cultural Experience
Maasai culture is also an important part of the Bateleur Camp discovery experience. Guests have the opportunity to learn first-hand about Maasai music and dance traditions, modern-day warriorhood, and can also visit a Maasai homestead to learn about the intricacies of beadworking and other cultural traditions.
Nearly every person who's had the good fortune to witness the great wildebeest migration has considered it a life-changing event, and the team at Bateleur Camp are working together with local communities and conservationists to keep it that way.