More and more, companies are embarking on green and social programs for their employees with concrete initiatives to be carried out during their work activities. That's why people increasingly feel the need to engage in these activities even when they are traveling and more often choose to stay at a hotel that likewise prioritizes minimizing its ecological footprint. Because Starhotels E.c.ho. has been a leader in sustainable hospitality for more than a decade, developing and enriching its commitment over time, it is the obvious choice for conscious travelers.
Protecting & Preserving the Environment
In a proactive effort to minimize its ecological footprint, Starhotels E.c.ho. and Fedegroup, its food and beverage partner that manages Orto Green Food & Mood restaurant, launched a comprehensive food waste reduction program. Through the "Too Good To Go" platform, hotel guests now have the opportunity to buy kits directly from the hotel restaurant containing fresh and delectable dishes that would otherwise go to waste — contributing to both sustainability and gastronomic delight.
Another noteworthy effort involves introducing an innovative compensation system for meetings and events hosted in the Starhotels E.c.ho. eco-friendly meeting rooms. Through this system, the hotel takes measures to counterbalance the CO2 emissions produced by these events by planting trees as part of global environmental initiatives.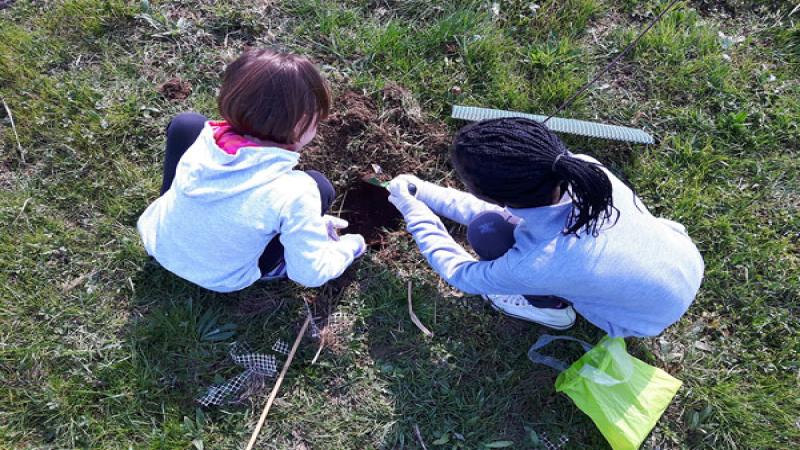 The staff at Starhotels E.c.ho. has also been trained in best practices that enable them to be more environmentally active and proactive. This includes adopting eco-friendly behaviors in their daily tasks, as well as knowing how to respond to guests who inquire about making their stay in Milan more sustainable. The staff also provides recommendations for organic restaurants and shops with locally sourced products. Often, guests who are increasingly conscious of these important issues seek activities in the city that are environmentally oriented and do not involve excessive CO2 consumption, and because the hotel also encourages the use of public and shared transportation, electric bicycles and scooters are available for its guests.
For the hotel's best employees, the general manager implemented planting a tree in their name as an award and supporting Forestami, an initiative promoted by the Municipality of Milan to plant 3,000,000 trees by 2030. This idea then prompted another initiative involving Starhotels E.c.ho..'s youngest guests. During Green Week 2023, children were gifted with a tree planted for them by Treedom in one of the areas most at risk of deforestation, scattered across every corner of the planet.
Giving Back to the Community
Beyond their environmental efforts, Starhotels E.c.ho. is deeply intertwined with the local community, providing active support to the Milano Centrale District, an association dedicated to improving the quality of life in the area through cultural and urban regeneration projects.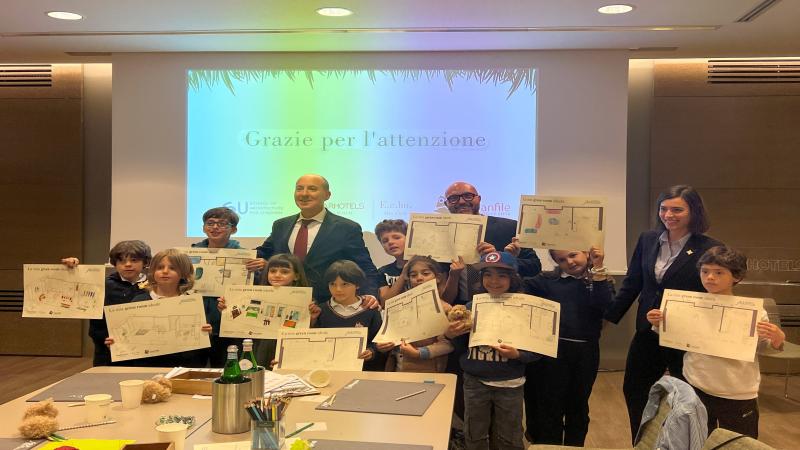 Starhotels E.c.ho. has partnered with SOUx Milano, the city's school of architecture for children, in a project promoted by renowned architect Mario Cucinella and directed by Caterina Malinconico. In collaboration with the Centrale District Association, they are spearheading a project that encourages the younger generation to imagine and design a new vision for Milano Centrale Station, the epicenter of the district. The overarching objective of this project is to promote a series of initiatives geared towards revitalizing the urban and social fabric of the neighborhood.
Finally, Starhotels E.c.ho. has forged a meaningful partnership with Banco Alimentare, empowering guests to actively participate in social responsibility endeavors. Guests have the option to make donations, equivalent to the price of a coffee (or more), to the association, with each €1 contribution supporting those most in need.
These initiatives exemplify Starhotels E.c.ho.'s unwavering dedication to the preservation of the environment and the welfare of its local community as a part of its commitment to sustainability and social responsibility.