With the distinction of being India's first female conservation biologist, the first woman in the world with a doctorate on tigers, and the nickname "Tiger Princess," it's no surprise that Dr. Nath, who is also the founder of Hidden India Mahavan, became enamored with tigers at a very young age. "I must have been six or seven when I saw my first tiger," she says. "But even earlier than that, my father took me to Chitwan in Nepal and I came home with a tiger poster. It was the 'superhero' poster that hung on my wall throughout school, right through college."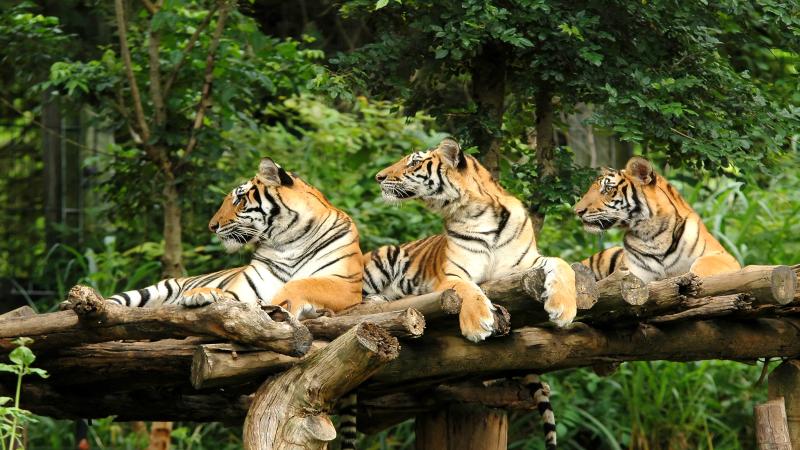 Why do we universally love and admire tigers? "We are all used to small cats," says Nath. "But to see a cat that is 10 or 11 feet long just takes your breath away. It is truly inspiring. When you see your first tiger, sitting on an elephant's back, looking down at him, it's a very big cat. You'll notice he is strong, powerful, and in control. Then, face to face with him, from a jeep perhaps, it is bigger. You stop thinking. You just stop. And you realize, after some time, you've stopped breathing."
For Nath, sitting for hours looking at a big cat becomes like deep meditation. "Every moment is sharply perceived; you forget everything else around you." India offers many chances to see tigers. If you have a bucket-list item, you want to meet one tiger in your life, and you only have two or three days to do it, Nath recommends parks such as Central India's Tadoba-Andhari National Park or Ranthambore National Park in Rajasthan, where there is a likelihood you will see a tiger quickly, due to the high density of the big cats, the landscape, and vegetation, and because the tigers here are accustomed to vehicular traffic.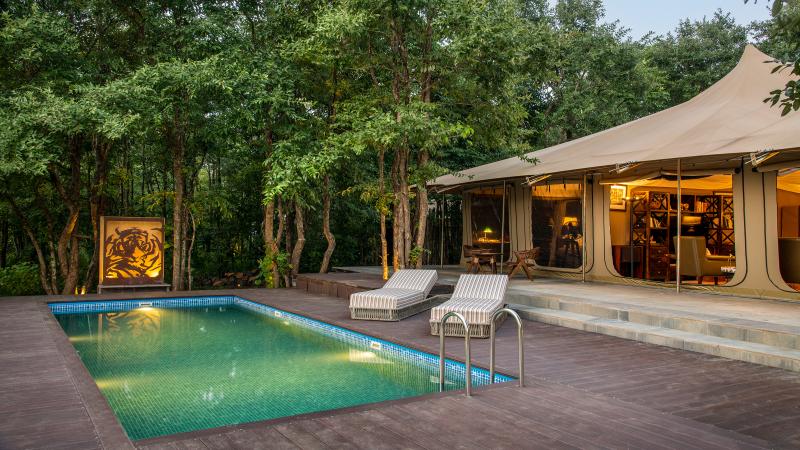 Sustainable glamping experience resort Hidden India Mahavan is located in India's oldest and largest park, Kanha Tiger Reserve, the inspiration for The Jungle Book. You'll see Baloo, Bagheera, and Kaa — all of Kipling's characters — come to life before your eyes. The luxury resort provides immersive wildlife viewing experiences that consider the well-being of the tigers and travelers.
If you have more time, maybe a week or 10 days, Kaziranga National Park in far northeast India shelters about 15 of India's threatened mammal species. The tiger population there has increased substantially and, although the park is known for the rare one-horned rhinoceros, the deep forests here are also home to the elusive white Bengal tigers. Once a maharajah's private hunting reserve, Bandhavgarh in Central India provides ample opportunity to spot the majestic Indian tiger and some rarely seen animals like leopard and sloth bear due to varied topography and landscapes from tall grasslands to thick forests. A day-long safari in a jeep or on an elephant's back is an incredible experience. When you book one of these longer experiences and find a tiger, you can actually sit with it — spend four to five hours just quietly watching and living in the moment with it, Nath says.
Of course, spotting a tiger, just like falling in love, is a matter of luck and timing, and Nath cautions: learn to be silent and watch, and always be prepared for the unexpected.
This article written by Abby O'Neil originally appeared in Preferred Travel magazine, vol. 20.