Undraa Buyannemekh truly has travel in her blood. Born in Ulaanbaatar, the president of Three Camel Lodge spent her childhood summers in Mongolia's countryside with her extended family of nomadic herders "doing what children do in nomadic families" – herding animals, making goatmilk yogurt, and, her favorite, wandering all day with her cousin in search of cow dung for cooking fuel.
Buyannemekh's education later took her to Russia for a BA in International Relations and then to the U.S. for an MA in the same field. In 2004, while seeking work in the nonprofit sector, she opted for an entry-level position with Three Camel Lodge. "I was curious how a for-profit organization can also have a positive impact on the environment and society at large," she says, "and I was inspired by the company's commitment to Mongolia and its sustainable future."
Such a commitment – one that Buyannemekh has strengthened while ascending the ranks during her 17-year tenure – extends throughout lodge operations and outreach. This includes hiring an entirely local staff and immersing guests in authentic nomadic culture, from traditional ger (yurt) building and archery lessons to cooking classes that emphasize regional dishes – "be sure to try the buuz (steamed Mongolian dumplings), a staple at Mongolian celebrations," says Buyannemekh.
Beyond Green recently spoke with the sustainable travel trailblazer on a range of subjects including Three Camel Lodge's efforts to save rare snow leopards, sustain Mongolian musical traditions, and – you'll love this – show guests how brilliantly stars shine in the Gobi's pollution-free skies.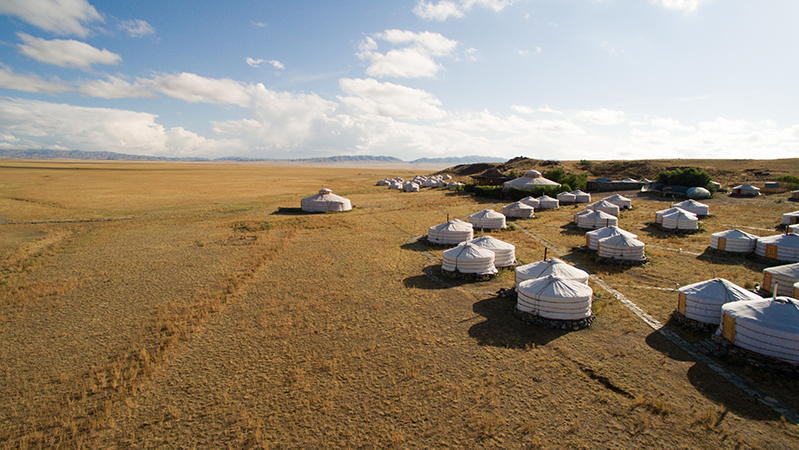 How does your personal experience inform your work at the lodge?
As I started traveling the world, I realized how Mongolia's nomadic culture and our ecology are unique and came to realize how they need to be preserved, especially as our wildlife populations began to decline due to hunting and poaching. I also realized that Mongolian nomads live one of the most sustainable of lives: They produce very little waste and most of what they consume regenerates itself. The world that my grandparents lived in was, and remains, very different than the world I got to know through my travels, where there seems to be an ever-increasing demand to consume more.
The nomadic way of life is at the heart of Mongolia's culture and is also at the heart of Three Camel Lodge. I'm proud that before we built the lodge, for instance, we restored a well so nomadic families could water their animals closer to their homes. And it's impossible to imagine Mongolia without seeing and staying in white-felt covered gers, so our goal is that when guests visit, they'll truly be immersed in our culture.
Other ways your lodge works to preserve Mongolian heritage?
We recently partnered with the Mongolian Bankhar Dog Project to breed and train these traditional livestock guardians for nomadic herders. The program not only helps protect livestock, but also helps save threatened wildlife like wolves and snow leopards that often prey on domestic animals.
Our lodge also provides support for students studying music at the local Hanhongor school. There are very few schools in Mongolia's countryside that provide musical education to children outside Ulaanbaatar. Hanhongor students learn traditional music and dance, and some of them continue their education in college, which we support through scholarships. Mongolian performing arts are truly remarkable and very little-known outside the country, so we're very happy to support these students.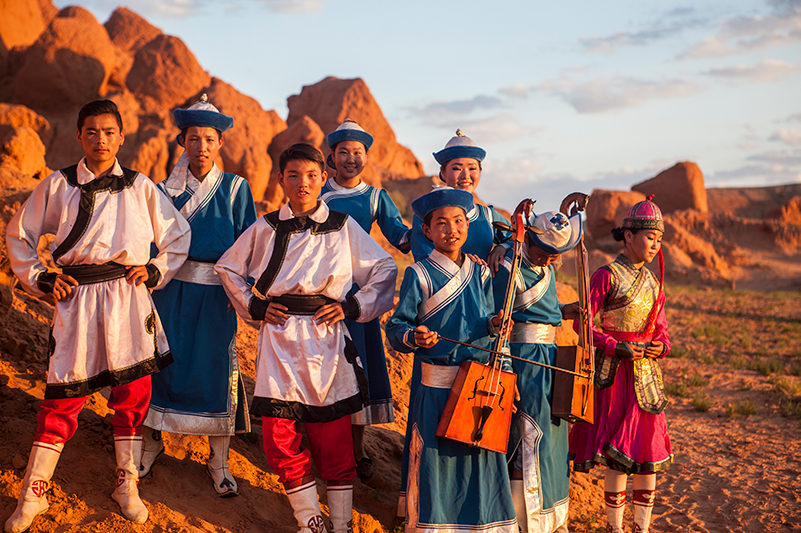 Why is your staff 100 percent local?
We have a responsibility to help develop tourism as a sustainable economic sector, as mining continues to be Mongolia's largest employer. Training, educating, and promoting local staff is also very important to us. This is especially so for women – they're the key to fighting poverty everywhere in the world and the same is true in Mongolia, so I'm proud that most of our managers are female. Locals can also share their culture better than anyone else, which means our guests have more opportunities to make deeper connections during their stay.
How can your guests give back?
Our guests donate funds to purchase grass and hay to help nomadic herders get through Mongolia's harsh winters. Their donations also support our efforts at the Hanhongor school.
What's it like to be in the Gobi?
Deserts might seem empty, but the Gobi's ecosystem is actually very diverse with its distinct plant and animal life. Our guests are also often surprised by the range of landscapes they find here, including dunes, steppes, sand cliffs, and mountains. This geographic diversity, along with the varied activities available, from hiking to a mountaintop to horse riding across the steppe, is what I love best about being in the Gobi. Two musts: watching sunrises and sunsets, where you can see the sun emerge from, and later disappear behind, an ocean of land.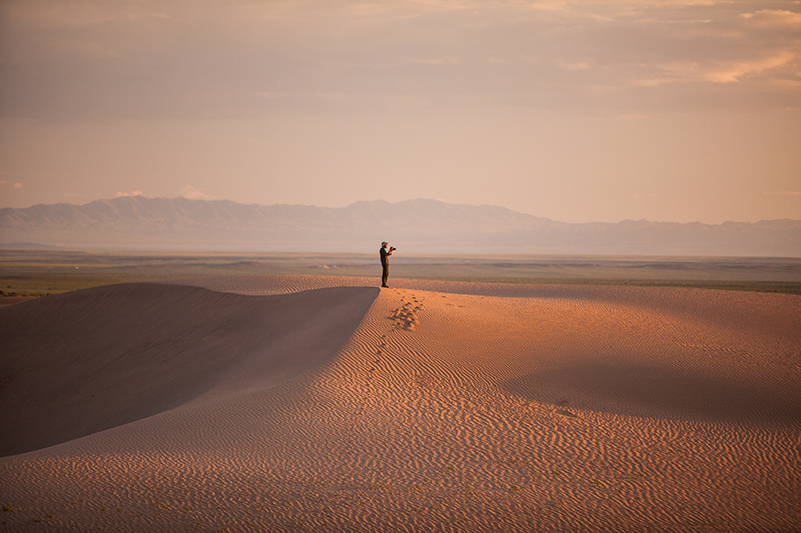 And what about those stars at night?
The Gobi's pollution-free skies and stars put on a show that will take your breath away. The circumpolar constellations Cassiopeia and Ursa Major are always visible as they dance around Polaris. Also prominent are the blue-white supergiant Deneb in the Cygnus constellation and Vega, the fifth-brightest star in Lyra. Jupiter, Saturn, Venus, and Mars are also easily spotted. With our telescopes you can also clearly see Jupiter's Great Red Spot and Saturn's rings!