Beyond Green members around the world prioritize rewilding efforts to restore lost species, by giving them space to thrive, through population enhancement, and by reintroducing key native species.
Rewilding enables nature's processes to shape, or re-shape, itself. This progressive approach to conservation requires repairing damaged ecosystems and restoring degraded landscapes, then patiently allowing nature to take care of itself. Through these rewilding efforts, Beyond Green sustainability leaders give nature a "helping hand" to create natural, more biodiverse habitats.
In Big Sur, Post Ranch Inn has planted over 200 redwood trees since it opened in 1992. They receive trees in 24-inch boxes and plant them around the 80 acres of open space surrounding the property that cannot be built on. This preserves the natural environment for generations to come.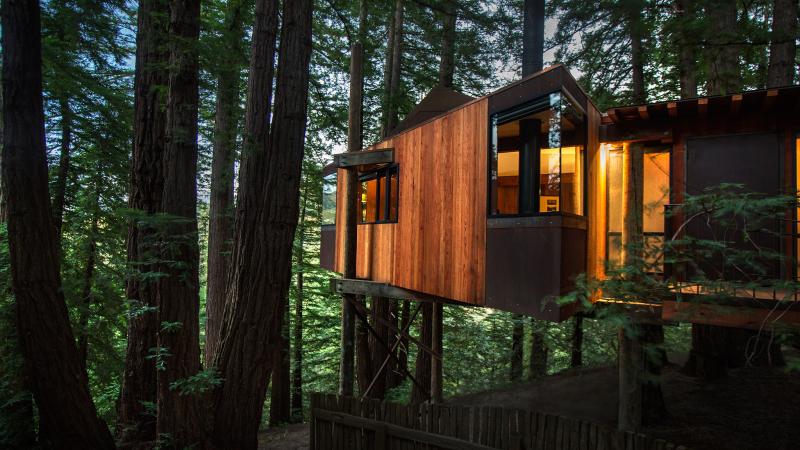 "We love protecting this land," Mike Higgins, Vice President of Operations at Post Ranch Inn's parent company Passport Resorts, explains. Among the endangered species on their property, the Smith's Blue Butterfly, which migrates to the steep hillsides of Big Sur, California, lives on the coastal buckwheat, a plant that grows there. Post Ranch Inn has planted over 300 of these plants and protects them while they are growing, to support the maintenance of this butterfly species. "This has nothing to do with hospitality and everything to do with responsible stewardship."
Three Camel Lodge was created based on the leaders' vision to develop Mongolia's most inspiring and sustainable eco-lodge. Using ancient Buddhist temple construction methods, this unique property was painstakingly built to reflect traditional Mongolian culture, respect its pristine surroundings, and serve as an active community resource. Three Camel Lodge also functions as a base for research within the Gobi and regularly hosts sustainability and preservation experts, including at the 2019 Symposium on Asian Dinosaurs.
In 2020, they launched a conservation partnership that funds research by the Wildlife Science and Conservation Center of Mongolia (WSCC) to study the golden eagle population in western Mongolia and support the cultural traditions of golden eagle falconry. The research will contribute valuable data and ensure the long-term sustainability of these majestic birds and the ancient heritage they represent.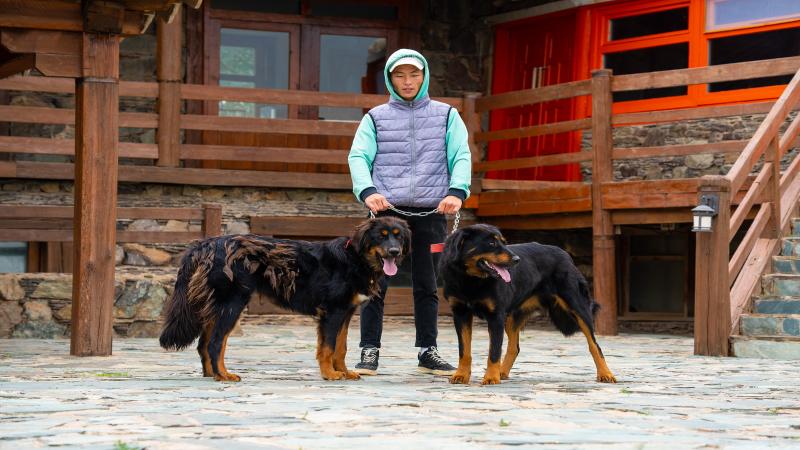 Another rewilding project adopted by Three Camel Lodge founder Jalsa Urubshurow is the Mongolian Bankhar Dog Project (MBDP). The Bankhar dog has aided the nomadic people for as long as they have lived on the steppe, but the current Bankhar dog population is a fraction of what it was in the past. Traditionally, nomads and herders kept these specially bred working dogs to protect livestock from predators, including the endangered snow leopards that often go after local livestock. MBDP breeds Bankhars to preserve their genetic diversity and is steadily reintroducing them to host families to bolster the culture and traditions of nomadic people, restore the depleted grassland ecosystems, protect the livestock, and subsequently protect the predators by preventing conflict with local herders.
The 11th-century Tuscany estate Borgo Pignano is surrounded by aromatic Mediterranean gardens, orchards, and fields, some sitting next to the estate's natural lakes and woods where resort guests swim, hike, bike, and enjoy the unspoiled nature. The estate has steadily increased its efforts to protect the area's flora and fauna, to make sure this stunning natural environment lasts for generations to come. Because healthy bees are vital to the well-being of biodiversity, Borgo Pignano has gone to extreme efforts to sustain the bees that buzz around the estate between flowers, plants, trees, and vegetables on the property. Each of the 50 hives that are scattered around the property produces its own Millefiori honey.
At Edgewood Tahoe Resort, Director of Engineering Gerry DeYong is passionate about protecting the lake and unique environment that has been his home for more than 40 years. The fact that the resort borrows the land and the lake from future generations is not lost on him. Every move we make, he explains, we must consider, first and foremost, minimizing our environmental footprint and keeping the area as pristine for those who come after us, as it was for those who came before us.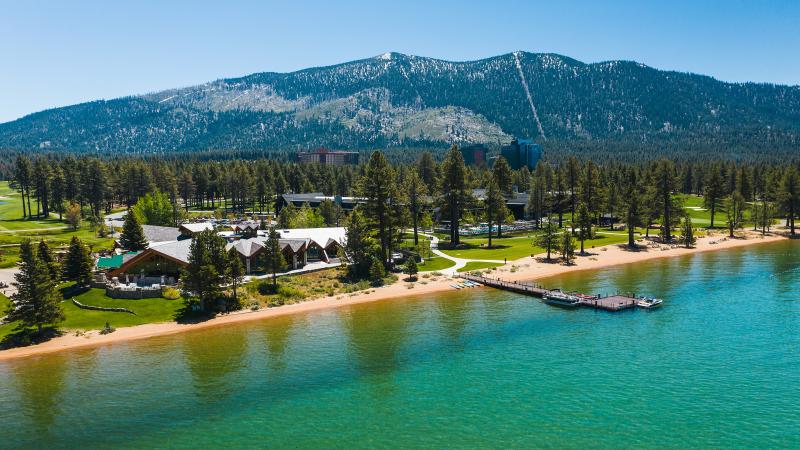 Edgewood Tahoe Resort removes 500,000 pounds of sediment from Lake Tahoe each year and has planted over 200 trees within the property over the last three years—they host a community tree planting event each year on Earth Day. These efforts, along with the ongoing realignment and daylighting of Edgewood Creek to allow a native fish passage and a spawning habitat, ensure that there is a healthy environment and space for nature to take its course.