From ancient Mayan preparations, handed down through generations, to African flavors that are the hallmark of the Garifuna people of the Caribbean coast, to Creole, Asian, and European gastronomic influences, the cuisines of Central America highlight plentiful fresh fish from local waters, heritage crops such as corn, sweet potatoes, plantains, and black beans, rich, aromatic spices like achiote and cilantro, and tropical fruits such as avocados, pineapples, and coconut.
The Flavors of Panama at Islas Secas
Of course, fresh from the Pacific seafood is the star of the menus at Islas Secas – a private island retreat in Panama's Gulf of Chiriquí. Housed in a soaring bamboo structure, the open-air Terraza restaurant is the heart and hearth of the property, where contemporary Panamanian cuisine is brought to life through a daily catch of the day, native ingredients purchased from the region's indigenous Ngäbe-Buglé communities, and locally inspired tropical cocktails. Lunches showcase refined island classics, like artfully presented ceviche and crispy fried snapper with plantains, while creative tasting menus rotate nightly to showcase the diverse cultural influences on Panama's dynamic cuisine – including Pacific, Caribbean, Indigenous, Asian, and Creole flavors. Committed to sustainable cooking, Islas Secas' chefs harvest house sea salt from the surrounding Pacific and recently introduced a nose-to-tail fish concept to minimize food waste. Whatever food is left over is dehydrated and composted, becoming fertilizer that will help grow the property's on-site organic garden to ensure many memorable meals to come.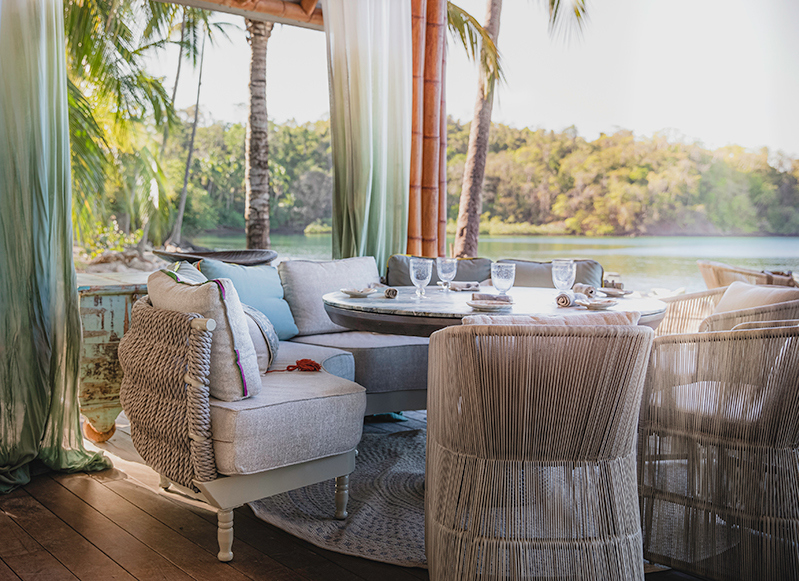 An Authentic Belizean Eatery at Turtle Inn
At Turtle Inn, the beachside Family Coppola Hideaway in Placencia, Belize, guests can choose from several restaurants, including the upscale Mare, which marries local seafood with traditional Italian cooking, reflecting owner Francis Ford Coppola's Italian heritage, and Auntie Luba's Kitchen, an authentic Belizean lunch and dinner eatery that truly captures the flavors and local cultures that set Belize apart. The menu includes home-cooked local fare such as "stew chicken," coconut shrimp, rice and beans, conch fritters, and a key lime pie that has become the stuff of legend. This casual yet festive wood-and-thatch restaurant overlooks the serene Placencia Lagoon - which the resort helps to safeguard with its support for local marine conservation organizations including Fragments of Hope, working to restore coral, and SEA Belize, for the protection of manatees.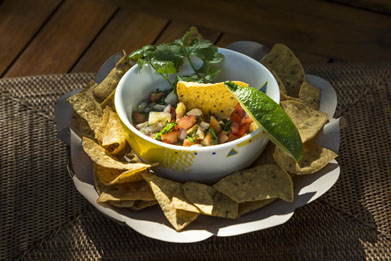 Contemporary Guatemalan Cuisine at Blancaneaux Lodge
At Blancaneaux Lodge, the Family Coppola Hideaway nestled deep in Belize's Mountain Pine Ridge Forest Reserve, the poolside restaurant Guatemaltecqua features the mildly spiced cooking of Guatemala, which draws on Mexican, Caribbean and Mayan traditions. Here, guests enjoy salpicón, a salad of shredded beef flavored with sour orange and cilantro; jocón, chicken cooked with green herbs and spices, and rellenitos, a dessert of mashed ripe plantains filled with sweetened black beans, then fried. Be sure to also savor the delights of The Garden Spot, which offers a tour of the property's renowned organic gardens that supply the kitchen daily, followed by communal outdoor dining featuring chef-prepared vegetarian fare.